---
Steeldrum / Steelpan
20. 1. 2008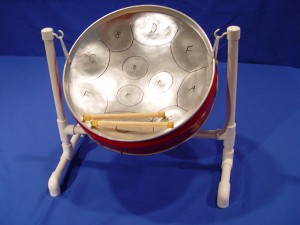 Steelpan
From Wikipedia, the free encyclopedia
Steelpan (also known as steeldrums or pans, and sometimes collectively with the musicians as a steelband) is a musical instrument and a form of music originating in Trinidad and Tobago. Steelpan musicians are called pannists.
The pan is a pitched percussion instrument, tuned chromatically (although some toy or novelty steelpans are tuned diatonically), made from a 55 gallon drum of the type that stores oil. In fact, drum refers to the steel drum containers from which the pans are made; the steel drum is correctly called a steelpan or pan as it falls into the Idiophone family of instruments, and is not technically regarded as a drum or Membranophone.
[edit]
Origins
The steel pan evolved out of earlier musical practices of Trinidad's enslaved Africans and Afro-descendants. Drumming was used as a form of communication among the enslaved Africans and was subsequently outlawed. Through their innovativeness and determination, they went through a series of musical alternatives from slavery to emancipation, using whatever materials they could find to construct musical instruments. It was therefore a specific cultural response to the specific demographic conditions present on the islands. Eventually, someone picked up a biscuit tin and realised its potential. From then, it developed further, moving on to an oil drum. In its contemporary form, it first arose in the 1930s and was developed largely during World War II. The first record of a pan band in the press appeared in a report of the Trinidad and Tobago Carnival in the Trinidad Guardian dated Tuesday, February 6, 1940.
One of the oldest steelbands in the world is The Neal & Massy Trinidad All-Stars, which celebrated its 72nd anniversary in 2007.
Early bands were essentially rhythm bands. However, during the 1940s discarded 55-gallon steel oil drums became the preferred type of pan and, perhaps noticing that constant drumming changed the tone of the pans, techniques were developed to tune them to enable melodies to be played. During WWII, tamboo bamboo bands, who usually performed during Trinidad's Carnival began using steel drums discarded by the US military (see Destroyers for Bases Agreement) to make advanced versions of their instruments. Ellie Mannette is credited as the first person to use an oil drum in 1946. By the late 1940s the music had spread to neighbouring islands.
In 1951 the Trinidad All Steel Percussion Orchestra (TASPO) took the music to the Festival of Britain in the United Kingdom - pan music still features in the annual Notting Hill Carnival.
In 1957, Rear Admiral Daniel V. Gallery formed what became the US Navy Steel Band, which toured the world as ambassadors for the U.S. Navy until 1999.
During the 1960s the tuner Anthony Williams developed a pan - the fourths and fifths - that has since become the standard design used today.
Two Americans, George Whitmyre and Harvey J. Price, have secured a US patent for "the process of formation of a Caribbean steelpan using a hydroforming press". This patent is being challenged by the Trinidad and Tobago Legal Affairs Ministry, since many Trinbagonian drum makers have used similar methods for years. Their pan making company, Hydroforming, has gone out of business.
Steelbands in the early years were looked down upon by upper class society, and the panplayers were seen as undesirables. This view has completely reversed to the point where there are much more church steelbands than conventional bands.
[edit]
Construction
Pans are constructed by pounding the top of the oil drum into a bowl-like shape, known as "sinking" the drum. The drum is tempered over a fire until it is "white hot" and allowed to cool. Then the notes are laid out, shaped, grooved, and tuned with a variety of hammers and other tools. The note's size corresponds to the pitch - the larger the oval, the lower the tone.
The size of the instrument varies from one pan to another. It may have almost all of the "skirt" (the cylindrical part of the oil drum) cut off and around 30 soprano-range notes. It may use the entire drum with only 3 bass notes per pan, in which case one person may play 6 such pans. The length of the skirt generally corresponds to the tessitura (high or low range) of the drum. The pans may either be painted or chromed.
[edit]
The pan family
There are 13 instruments in the pan family:
Soprano/Lead/Tenor (There are many variations of tenor pans: Spiderweb lead, 4ths and 5ths from C and D, 3rds and 5ths, invader, left handed, etc...)
Double tenors
Double Seconds
(extensions can be added to form quadduet)
Double guitars
Quadrophonic (four pans)
Triple guitars
Cellos (Three and four pan variations)
Six pan
Tenor bass (Three and four pan variations)
Six bass (and numerical variations)
Seven bass
Nine bass (with numerical variations up to 12)
Twelve Bass
Genesis Steel Pan ( newest variations launched in July 2007)
[edit]
The future of pan
The world of steelpan is still thriving. Many ensembles have emerged in recent years which combine the steelpan with other styles of music. More and more artists have begun including the instrument in various genres of music.
From a classical perspective in December 2006, (Liam Teague) and the (Vermeer Quartet) performed Deborah Fischer Teason's five movement "Cadences" for tenor pan and string quartet at the Northern Illinois University concert hall on a program with Schubert's Quartettsatz in C minor and Beethoven's Quartet in A minor, Op 132. The concert was repeated at Chicago's Symphony Hall. Teague also premiered Jan Bach's Concerto for Steelpan and Orchestra with the Chicago Symphonietta in 1995. Other works in this genre include a concerto for double tenor pan by (Rachel Hayward) which was premiered by the National Youth Orchestra of Great Britain (1988). Many contemporary composers, such as Hans Werner Henze, Javier Alvarez, Simon Limbrick, Grisey, Christopher Melen, Brian Elias, Libby Larson and Felix Cross have also written pieces featuring solo steelpan parts. Famous Pan players include, Gary Gibson, Chris Tanner, Tom Miller, Len "Boogsie" Sharpe, Othello Molineaux, Jeff and Andy Narell, Aldon Moore, Jim Munzenrider, Robert Greenidge, Liam Teague, Alan Lightner, Ray Holman, Dave Longfellow, Naveia Daniel, Jonathan Scales, Victor Provost, and Russel Henderson.
Johann Chuckaree, an upcoming steelpan star, has been playing pan since a very young age and has adopted Boogise as his mentor. He has received training in playing multiple pan as well as arranging from Boogise.
Samples of the steelpan have been used in some prominent Southern rap songs in the United States over the last few years. Some of them include:
Josanne Francis, another young upsoming pioneer in the music arena began playing the instrument at a tender age and is now furthering her studies in music abroad. She intends to open her very own school for the arts in the future.
[edit]
See also
[edit]
External links
Komentáře
Přehled komentářů