---
Surdo
24. 1. 2008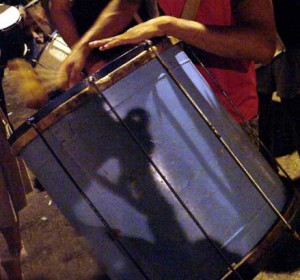 Surdo
Surdo je něco jako srdce samby, má měkký hluboký basový tón. Velký buben, nošený na popruhu kolem ramen, nebo pasu, vyrobený s prvotřídního hliníku. Rozeznívá se paličkou a dlaní, nebo paličkami, které však mají měkký konec (tyto paličky na surda Meinl také vyrábí a dodává ve třech typech).
Meinl vyrábí tři velikosti surd - 22 (22"/24"), 20 (20"/24") a 18 (18"/22"). Všechny nástroje mají samozřejmě výměnnou plastovou blánu. Surda mají moderně řešený kulatý ráfek. Blány jsou laděny pomocí dlouhé tenké tyčky, která propojuje oba protilehlé ráfky. Je to tradiční princip ladění surd, kdy do těla nástroje není vrtáno, aby se připevňovaly klasické mušle, jako např. u tom-tomů. Tím je buben mnohem lehčí a jelikož je to nástroj, který se nosí, každý gram navíc je pak cítit.
Každému ze tří surd patří dané rytmy. Kompletní celek tvoří právě souhra těchto tří nástrojů dohromady, které poskytují vlastně tři tóny - od nejhlubšího, po nejvyšší. Rytmy hrané na surda tvoří pilíře, na kterých se budují další rytmy ostatních nástrojů.
Pod rukama mi prošlo mnoho surd, včetně brazilských originálů a tyto nástroje vynikají svým kvalitním zpracováním i atraktivním vzhledem.

Ladění + obal
Surdo je dodáváno i s laditelným klíčem. Ladí se stejně jako tom-tomy, tedy vždy protilehlé šrouby, kdy ideální je, aby u každého šroubu zněl stejný tón, jako u ostatních kolem.
Surdo
From Wikipedia, the free encyclopedia
The Surdo is a large bass drum used in many kinds of Brazilian music, most notably samba.
Surdo sizes normally vary between 16" or even 14" and 26" or even 29" diameter. In Rio de Janeiro, surdos are generally 60cm deep. Surdos used in the northeast of Brazil are commonly more shallow (50cm deep). Surdos may have shells of wood, galvanized steel, or aluminum. Heads may be goatskin or plastic. A Rio bateria will commonly use surdos that have skin heads (for rich tone) with aluminum shells (for lightness). Surdos are worn from a waist belt or shoulder strap, oriented with the heads roughly horizontal. The bottom head is not played.
[edit]
The surdo in Rio-style Carnival samba
A typical Carnival samba bateria in Rio de Janeiro has three surdo parts distinguished by tunings (and, by extension, sizes of drum). Together these three parts create a distinctive pattern which propels and drives the samba.
The surdos on which the primeira ("first") or marcação ("marker") part is played are the largest and deepest-pitched drums in the bateria. They are normally between 22" and 26" in diameter. The primeira part provides the pulse or rhythmic reference for the entire bateria. It sounds the "2" of the basic "1, 2" rhythm of samba and may also sound pick-up notes to start the music.
The primeira is answered by a slightly smaller and higher-pitched surdo playing a part known as segunda ("second"), resposta ("response"), or respondor ("that which responds"). It is generally played on drums 20" or 22" in diameter. It sounds the "1" of the basic "1, 2" rhythm of samba.
The third surdo part, called terceira ("third") or cortador ("cutter" in English), is played on the smallest and highest-pitched surdos, generally between 14" and 18" in diameter. The terceira part consists of more complex patterns that provide fills and syncopations, producing an effect of "cutting" across the basic pulse created by other two surdo parts. Terceira patterns are important drivers of music's "swing" — the feel of the bateria. Terceira players are the only surdo players with room for limited improvisation.
[edit]
The surdo in other Brazilian music
Surdos are used by samba-reggae and axé music groups of northeastern Brazil. Samba-reggae often has two surdo tunings, the lower tuning playing the pulse on 1 and the higher tuning playing any number of counterpatterns. The higher-tuned surdo is played with two mallets in samba-reggae.
Single surdos are also used extensively in smaller samba and pagode bands.
Other bass drums found elsewhere in Brazil include the zabumba and alfaia of the northeast.
[edit]
Playing techniques
For samba-enredo (Rio-style Carnival samba), surdos are played with one mallet, damping the head with the other hand. In more intimate settings with smaller bands, a surdo player may make elaborate use of damped hits and the free hand. Playing style may converge on that of the repinique, which is also played with one stick and one hand, and which is sometimes considered to be a very small surdo. In samba-reggae it is common to use two mallets.
[edit]
External links
Komentáře
Přehled komentářů