---
Tombak - Dumbek - Zarb
29. 12. 2007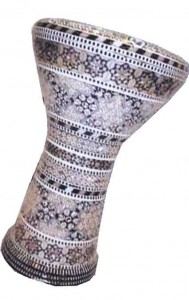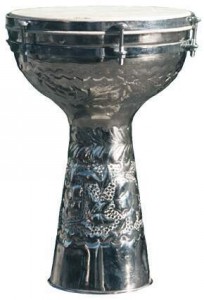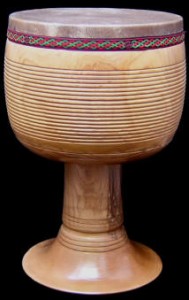 Tradiční hudební nástroje středního východu
Ney - orientální rákosová či bambusová podélná flétna různé délky (do cca 60cm), s 6 předními a 1 zadním otvorem. Pochází ze starověkého Egypta, je rozšířená po celém středním východě a patří k základním nástrojům persko-arabské hudební tradice.
Out - tradiční arabská loutna
Tanbura - dlouhokrká loutna
Kanun - turecká mnohostrunná citera (75 strun)
Kemenče - malé housle, hraje se na ně jak na violocelo
Některé typické nástroje tradiční hudby středního Východu :
Tár


Kemenče



Rabab
Ney -
flétny
různé
délky



Kanun
O u t Tombak
Tombak
(zvaný též
Dumbek
nebo
Zarb
) - jednoblanný vertikální buben, často s keramickým korpusem
Daf
- velký plochý perský rámový buben, používaný často při dervišských obřadech Zikr
Mazhar - jednoblaný bubínek
Kudim - malé tympány
Halile - činely
Dutár - středoasijská dvoustrunná loutna
Gidžak, Satú - smyčcové nástroje
Tár
- dlouhokrká loutna rozšířená v Íránu, Azerbajdžánu i Arménii
Rabab
- tradiční persko-afgánská loutna s 5 hlavními strunami a 13 sympatetickými, má posunovatelné pražce. Loutna pro zvonivé drnkání typické v arabské hudbě.
Z rababu se vyvinul indický
Sarod
.
Goblet drum
From Wikipedia, the free encyclopedia
The goblet drum (also chalice drum) is a goblet shaped hand drum used in Arabic, Assyrian, Persian, Balkan, Armenian, Azeri and Turkish music. Its thin, responsive drumhead and resonance help it produce a distinctively crisp sound. It is of ancient origin, and is believed by some to have been invented before the chair.
[edit]
It has many names, according to the location:
[edit]
Technique
Goblet drums are played with a much lighter touch and quite different strokes (sometimes including rolls or quick rhythms articulated with the fingertips) than hand drums such as the djembe, found in Africa.
There are two main types of goblet drums. The Egyptian style has rounded edges around the head, whereas the Turkish style exposes the edge of the head. The exposed edge allows closer access to the head so finger-snapping techniques can be done, but the hard edge discourages the rapid rolls possible with the Egyptian style.
The goblet drum may be played while held under one arm or by placing it between the knees while seated. It produces a resonant, low-sustain sound while played lightly with the fingertips and palm. Some players move their fists in and out of the bell to alter the tone. There are a variety of rhythms that form the basis of the folkloric and modern music and dance styles of the Middle East.
There are two main sounds produced by the goblet drum. The first is called the 'doum'. It is the deeper bass sound produced by striking the head near the center with the length of the fingers and palm. The second is called the 'tek' and is the higher-pitched sound produced by hitting near the edge of the head with the fingertips. A 'tek' struck with the secondary hand is also known as a 'ka'. Additionally, there are more complex techniques including snaps, slaps, pops and rolls that are used to ornament the basic rhythm. Hand clapping and hitting the sides of the drum can be used in addition to drumhead sounds.
Another technique commonly used in Bulgaria, Turkey, and Egypt, and is to tap with the fingers of one hand and with a thin stick in the other. In Turkey the stick is called the çubuk, which means wand, or stick. The Gypsies of most of the countries associated with the goblet drum use this technique.
[edit]
Notable goblet drum players
[edit]
External links
Komentáře
Přehled komentářů